A Woman's Heart
Book 1: Castlelough Series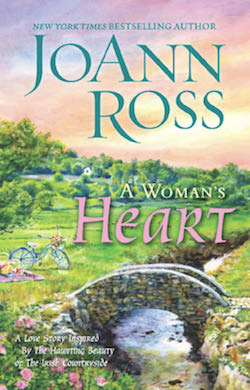 A rich, lyrical love story about land, community, family, and the very special bond between a man who doesn't believe in anything and a woman who believes in him…
Ireland —  a land of unbridled spirit, ancient legends, whitewashed cottages and storybook castles.  A place where anything can happen and there are no strangers —  until now.
Cynical, bitter, and disillusioned, Quinn  Gallagher has reluctantly come to Castlelough. But the magic of the west coast is about to change him.
He's never met anyone like Nora Fitzpatrick.  Despite all of life's hardships, the young widow still has a generous heart.  Quinn can't help himself — he falls in love.
But life has taught him to never trust in anything…
… especially a happy ending.