One Summer
Book 2: Shelter Bay Series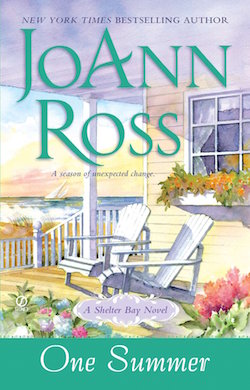 It was supposed to be nothing more than a brief encounter.
Former U.S. Marine photojournalist Gabriel St. James doesn't see the world as others do. His work reflects the heart of a dispirited, disillusioned loner. When he arrives in Shelter Bay to help out a fellow Marine, the last thing he expects is for that cynical veneer to crack. Then again, he never expected to meet a woman like Charity Tiernan.
A veterinarian with a past that would have defeated a less resilient woman, Charity still possesses a heart as generous as her name. She's known men like Gabe before—a guarded soul with an elusive nature. With a shared attraction impossible to deny, Charity and Gabe agree to a simple affair with no expectations.
But as summer unfolds, and Gabe finds reasons to extend his stay in Shelter Bay, he and Charity realize that there's nothing simple about falling in love, and nothing easy about the choices of the heart.