Cranberry/Apple Pie Recipe
Cranberry Apple Pie Recipe
I've had so many requests for this holiday pie over the years, I thought I'd share here. Either use your favorite 9″ pie crust recipe or buy a deep dish crust from the supermarket.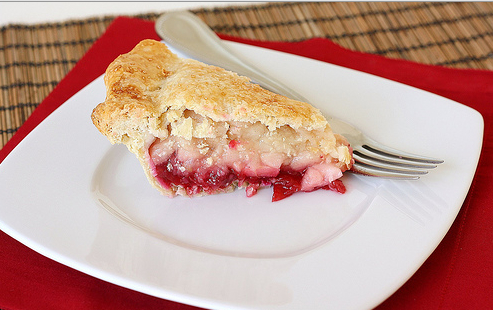 For the cranberry layer, which should be made first. 
Ingredients:
2 cups fresh or frozen cranberries
1/4 cup orange juice
1/2 cup granulated sugar
1/4 teaspoon salt
1 Tablespoon cornstarch (you may not need this, but I never take chances, because I don't want to make a second one if the berries don't set up. The taste bakes out.)
Bring to a boil in a medium saucepan over medium-high heat. Cook for 10-12 minutes, stirring occasionally and pressing the berries against the side of the pan to break them down. (I use a wooden spoon.) They're done when you can drag a spoon across the bottom of the pan and the berries don't fill in the clear trail.
Remove from heat and cool to room temperature. About 30 minutes, although mine often sit longer if I haven't peeled or sliced apples beforehand.
Apple layer:
5-7 cups of peeled baking apples. You want an apple that's both tart and sweet, but won't break down while baking. To get some differences in tastes and textures, I use 3 Granny Smiths, 2 Jonagolds (Johnathons in some places) and 1 Braeburn.
2 Tablespoons cornstarch
1/2 cup granulated sugar
1/4 cup light brown sugar
1 teaspoon ground cinnamon
1/4 teaspoon ground ginger
1/4 teaspoon allspice
1/4 teaspoon nutmeg
2 Tablespoons cold unsalted butter
1 Tablespoon lemon juice
white of one egg, lightly beaten
finely grated orange zest.
Mix all the dry ingredients into a large bowl, along with 1/4 – 1/2 teaspoon orange zest. Do this BEFORE before adding apples. (I didn't once, and it was a mess trying to get it all blended.)
Add apples, peeled and sliced about 1/4" thick and lemon juice. Mix together until all the apples are coated. I start with a wooden spoon and end up using my hands. Let sit for at least 10 minutes (preferably longer) for the juices to come out of the apples.
Brush your pie crust you've already put in the bottom of your pie pan with lightly beaten egg white and let dry to prevent a soggy crust. Don't prick. If you don't have a pastry brush, I've found the silicone ones last seemingly forever and are so much easier to use.
Spread cranberry mixture across the bottom of the crust.
Add apple slices, arranging so they build toward a dome in the center. Don't worry if it seems like too many apples, they break down while baking. Top apples with cut up pieces of butter
Lay top crust over the pie and seal/flute edges. Brush with egg white and sprinkle with a bit of granulated sugar.  Cut four diagonal slices in the center of the top dough. Then place pan on a pre-warmed baking sheet to protect against spillover and put on the middle rack in a preheated oven.
Normally I'd start at 425 degrees for the first ten minutes but –oops—we forgot to clean the oven one time after roasting a chicken—so it began to smoke! I compromised by turning it down to 375  degrees, which stopped the smoking. I covered the edges with a pie crust shield for the first 25 minutes. (In olden days, I used folded strips of aluminum foil, but they're harder to get off without tearing the crust.) I've switched to an adjustable silicone one I found on Amazon for $7.99 that fits all my pans and never slips or puts dents in key lime and other cream pies.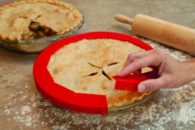 After the first 25 minutes, I took the shield off and baked for another 30 minutes. It turned out such a pretty color, I decided to stick with this way.
It's always yummy, but serving it warm with vanilla bean ice cream, elevates it to scrumptious! Bon Appétit and happy holidays!